This is where we lie and lie and lie about our cycling and other types of prowess!
My name is Jeff, I will be doing the bragging.
We have been around for over 37 years, we have earned the right to brag.
We were the first place in NORTH AMERICA to install a pair of Time cleats.

We stocked and sold the FIRST Kestrel Talon Road Bike in THE WORLD!

That should come as no surprise as we have over 400 bikes assembled and on the sales floor at all times! Road Bikes, Mountain Bikes, Kid's Bikes, Kid's trikes, Adult Trikes, Recumbents, Fat Bikes, Tandems, Hybrids, Folding Bikes, Comfort Bikes, Cyclecross Bikes, BMX Bikes, Single Speeds, Single Speeds without brakes!!....am I forgetting some??
For reasons unknown to us, Greg let us work on his bikes. Before you ask, Bernard Hinault did not pay us to work on Greg's bike!
I showed Greg LeMond what index shifting was way back in 1984 (I think it was 1984). We put a full Dura Ace group on his bike that winter and he made his FIRST index shift on a ride with me (one of dozens that year). Steve Bauer (his La Vie Claire teammate) didn't want to be left out so we installed index shifting on his bike also (we let him ride with us too!). During the 80's we held three two day cycling clinics with Greg here at the store, another first.


I mechaniced for the Subaru Montgomery Race Team several times in the 90's and even got to tangle with a very cocky 19 year old named Lance Armstrong. He was quite fast too!

Eddie, Cullen and Darren made up the first three riders for our new ATB/Road team. They raced almost every weekend at downhill and cross country in the early 2000's.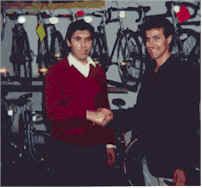 With 528 Classic wins, 5 Tour De France wins 5 World Championships and 3 Paris Robaix wins even a bad picture (or two) of Eddy Merckx in our store is a picture worth bragging about! Look at how young I looked. I used to have a signed wall from him.....
I raced road bikes for ten years (cat 2) and I was FIRST several times (Masters 35 1,2,3). I am counting prime laps!! I also raced mountain bikes for four years (expert) and I was NEVER first! I also did almost every century in California. After that I was a fat, lazy pig who liked to fish. I know that isn't much to brag about, but you should hear my fish stories! Now I am back on my bike barely rolling along but slowly loosing that gut.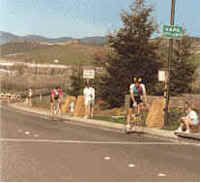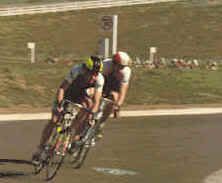 Here I am (front) at the Northern California District Criterium Championships in two different breaks. It's amazing what you can do with camera angles! I managed to finish in the top 3 three years in a row at this race (Master's 1, 2 &3 35-39 age group). Too bad I couldn't sprint, I may never stop bragging!
John Kelly, bike commuter, Pro bike racer, bikeseller!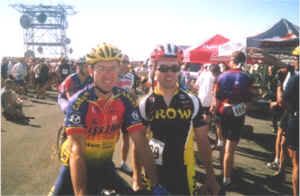 Now to someone who can truely ride fast. Former Pedaler full-time employee John Kelly was second at the 2001 Mt. Diablo Hill Climb.(For the second year in a row!) With a time of 47:10. No, he didn't use a car! Scott didn't tell us how he did (in the CROW jersey), but he made it.
The race started on the south end of the mountain at The Athenian School and made it up the southside to the top. 10.9 miles and 3849 feet to the top! One of our mechanics Calvin got 101.04 in the road division in 2005, he plans on breaking 57 minutes in 2006. If he could pedal with his lips I think he would break 45 minutes.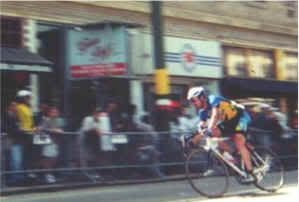 Look at John at the San Francisco Gran Prix. 128 miles, 8000 feet of climbing and an 18th place finish out of 120 starters! John was the TOP amateur finisher! John held a pro racing license for several years.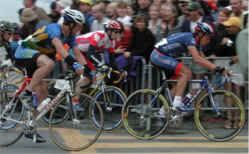 John Kelly (foreground), Ekimov(front) and Mark Walters (Canadian National Champion).
Congratulations to Peter Luce of Piedmont, California for telling us Ekimov's first name: Viatcheslav! He will receive a beautiful Ped T!
John won the 2001 State Championship in the Pursuit at Hellyer Park in San Jose, Ca. with a time of 4.58. He was second at U.S. Nationals (above) with a time of 4:4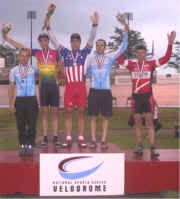 Second is not last when it comes to Nationals! The Track Nationals were held in Blaine Minnesota in 2001 and John took the silver!
John was the 2000 California State Time Trial Champion with a time of 51:30 for 40 kilometers at Sattley Ca. On the road he was FIRST at Copperopolis and Corral Hollow (cat.1) in 2001. John now races with Webcor. He is on the cover of the Velo News 2005 Road Racing Calendar!
Paul Yazolino Track Star and Friend of the Pedaler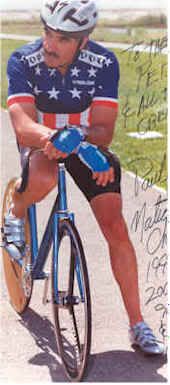 We sponsored Paul Yazolino for several years. Many time Masters National (4) and Masters World Champion (2), Paul has inspired us all with his tenacity and sheer speed. Here in this photo Paul won the 200 meter sprint at The Nationals in 1993. He set a U.S. record time of 11.687 seconds. His warm up the day before was 11.4! He raced in the 50-54 age group, but his time was faster than the 35-39 year old age group! Paul is one of the nicest and most polite people you will ever meet, until you get him on the track!
The NorCal High School Mountain Bike Racing league is in full swing. We are proud to be the FIRST official bike shop for the league! We help all we can. Currently we are the official bike store for the El Cerrito and Albany High School Teams. There are ways you can help out too, check out their site.

Jonathan Weast of Sacramento made this cool picture for our Indian Summer Sale in 1990. We hope to remember to use it again someday!